Air fryer tacos are my favorite use for leftover mashed potatoes! Especially THESE crispy air fryer tacos! Imagine corn tortillas filled with cheese and fluffy, smokey mashed potatoes crisped in an air fryer for the best crunch possible... Yum!
These tacos are excellent for everyday meals, gatherings, and special occasions!
You can add as many or as few toppings & fillings as you would like! I prefer topping my air fryer tacos with red onion, cilantro, lettuce, & sour cream.
Jump to: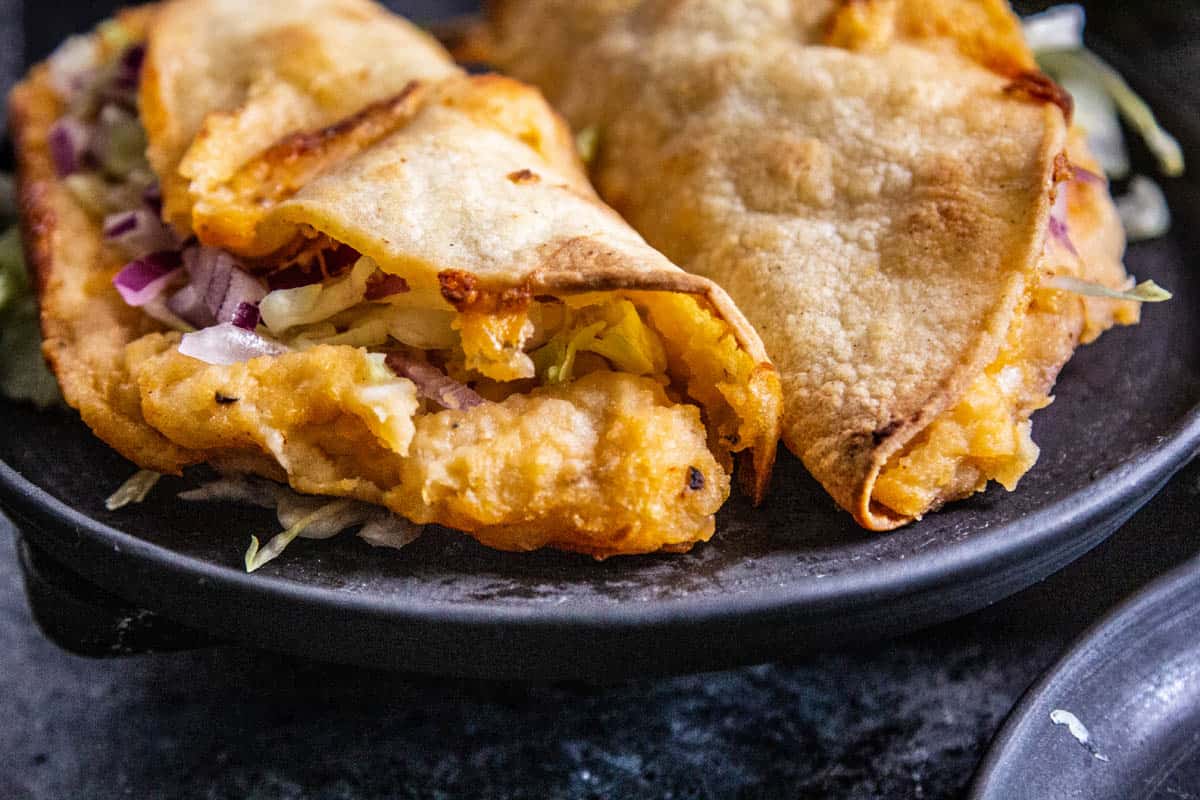 Deliciously Crispy Air Fryer Tacos!
This taco recipe will convince you to buy an air fryer if you don't already have one.
You won't believe that these tacos stuffed with mashed potatoes aren't fried in oil because they are so crispy & crunchy!
By avoiding classically frying your tacos, they will be much healthier since you will not use an insane amount of oil!
What I love most about using an air fryer for these tacos, is that I don't have to worry about having a soggy, greasy shell! Those are the worst!
What Kind of Tortilla To Use For These Air Fryer Tacos
You will need corn tortillas! They will give you the best flavor and crunch. Although flour tortillas also work, you will want to use corn tortillas.
There are two varieties: yellow corn & white corn tortillas.
I prefer white corn tortillas because they are soft & tend not to crack when folded.
Yellow corn tortillas are less flexible & more likely to break, but they become more flexible when warmed up.
How to Make Air Fryer Tacos - Complete How-To Guide
These tacos are perfect for those days when you want something tasty but don't want to spend too much time in the kitchen cooking.
These tacos is only take about 15 minutes to prepare, so you won't have to wait long before you get your first bite!
Ingredients
White Corn Tortillas

Olive Oil

Cheese Of Choice *I used a 4 cheese Mexican Blend*

Mashed Potatoes

Chipotles, in Adobo Sauce
Salt & Pepper
Red onion, Lettuce, Cilantro, Salsa, & Sour Cream *optional toppings*
See recipe card for quantities.
Instructions To Make Air Fryer Tacos
This is a step-by-step tutorial on how to make these delicious tacos. The recipe is super simple, and you can whip it up in no time!
Wrap the tortillas in a damp paper towel & microwave until the tortillas are warm & flexible.
In a bowl, add the mashed potatoes, & season to taste with salt & pepper.
Add the Adobo sauce into the bowl.
Mix together well.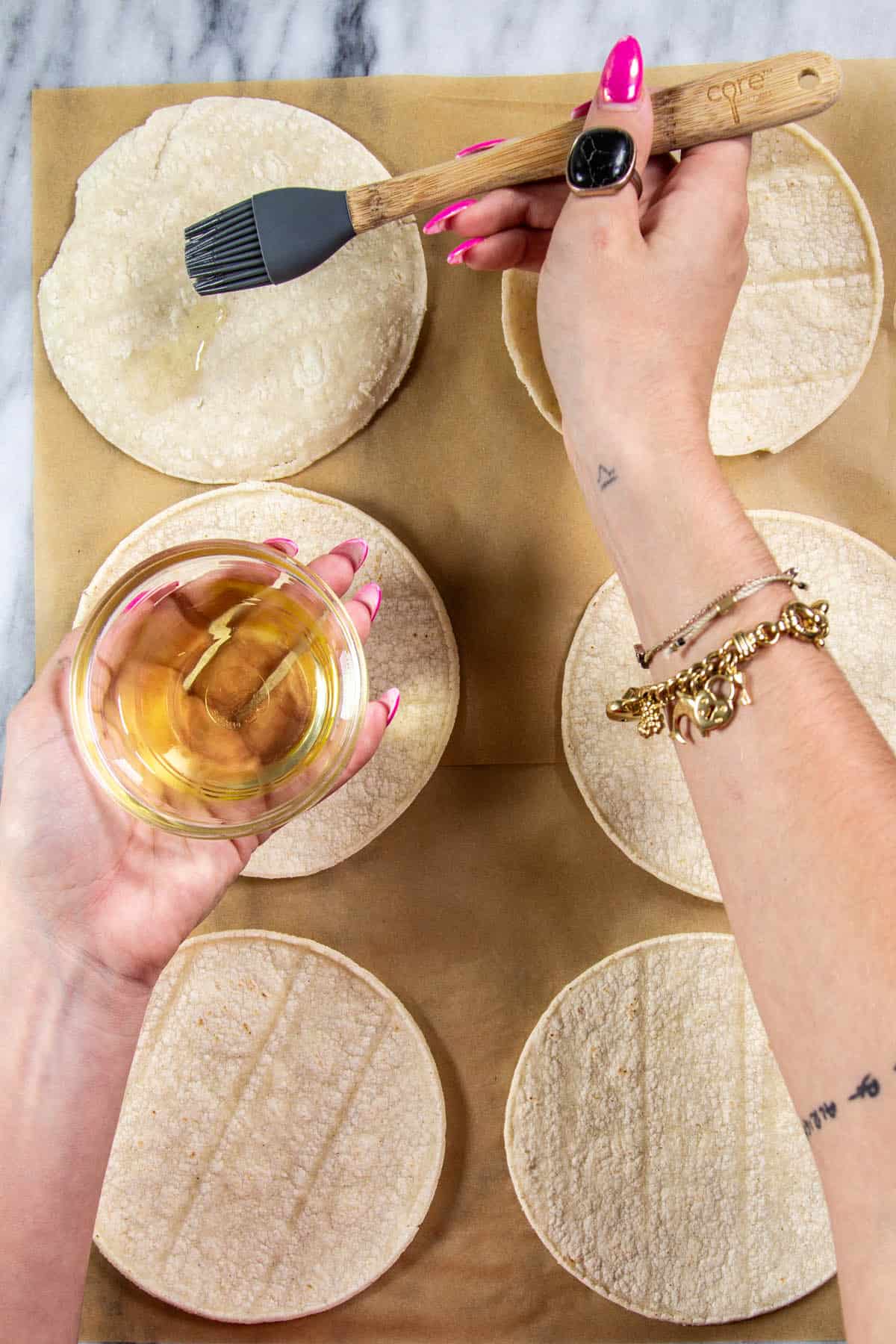 Coat the tortillas with oil. Flip the tortillas & coat the other side with oil as well.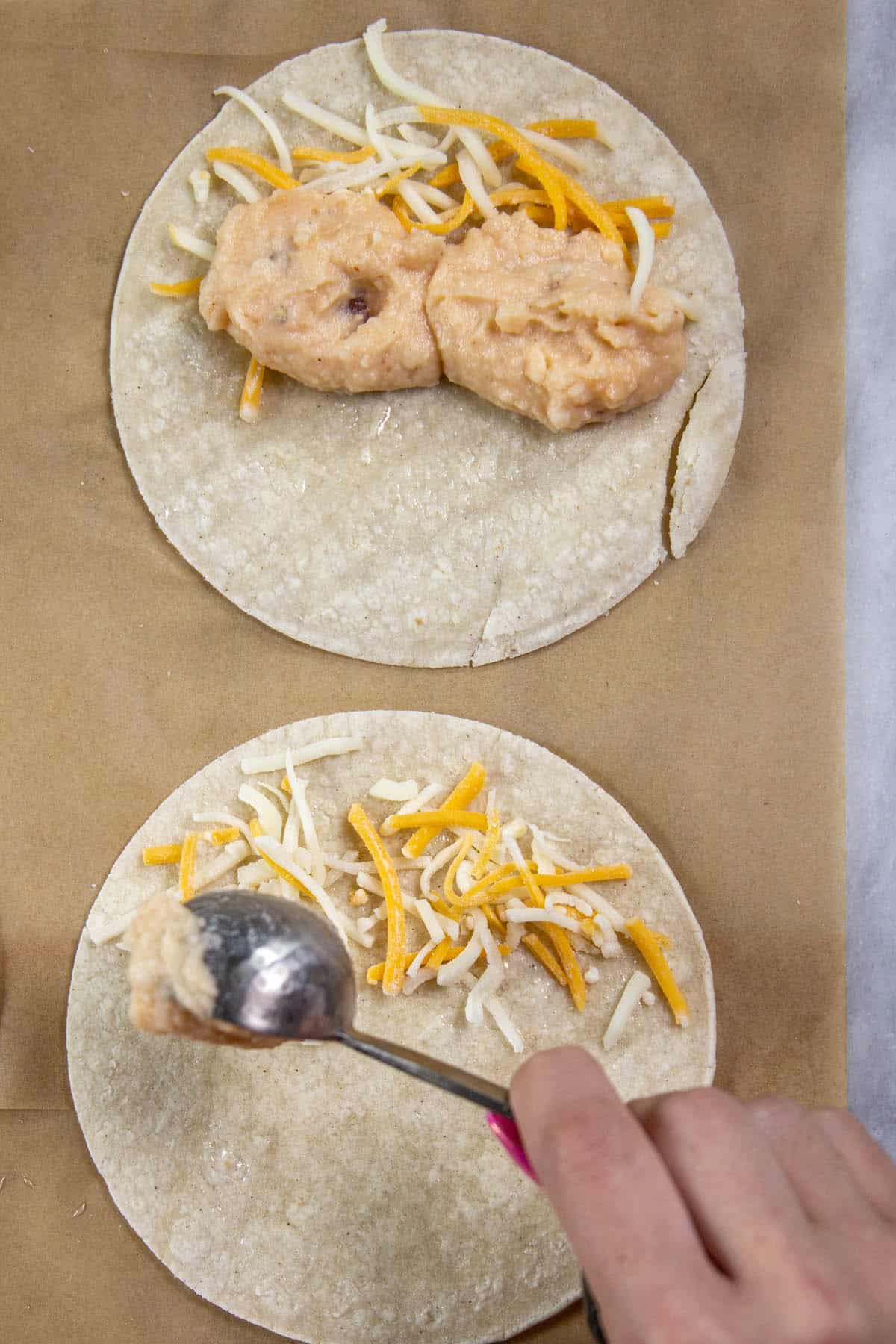 Sprinkle cheese on half of the tortilla. Then, place 2 tablespoons of the potato mixture on top of the cheese.
Fold the tortillas in half. They should stick together easily thanks to the potatoes.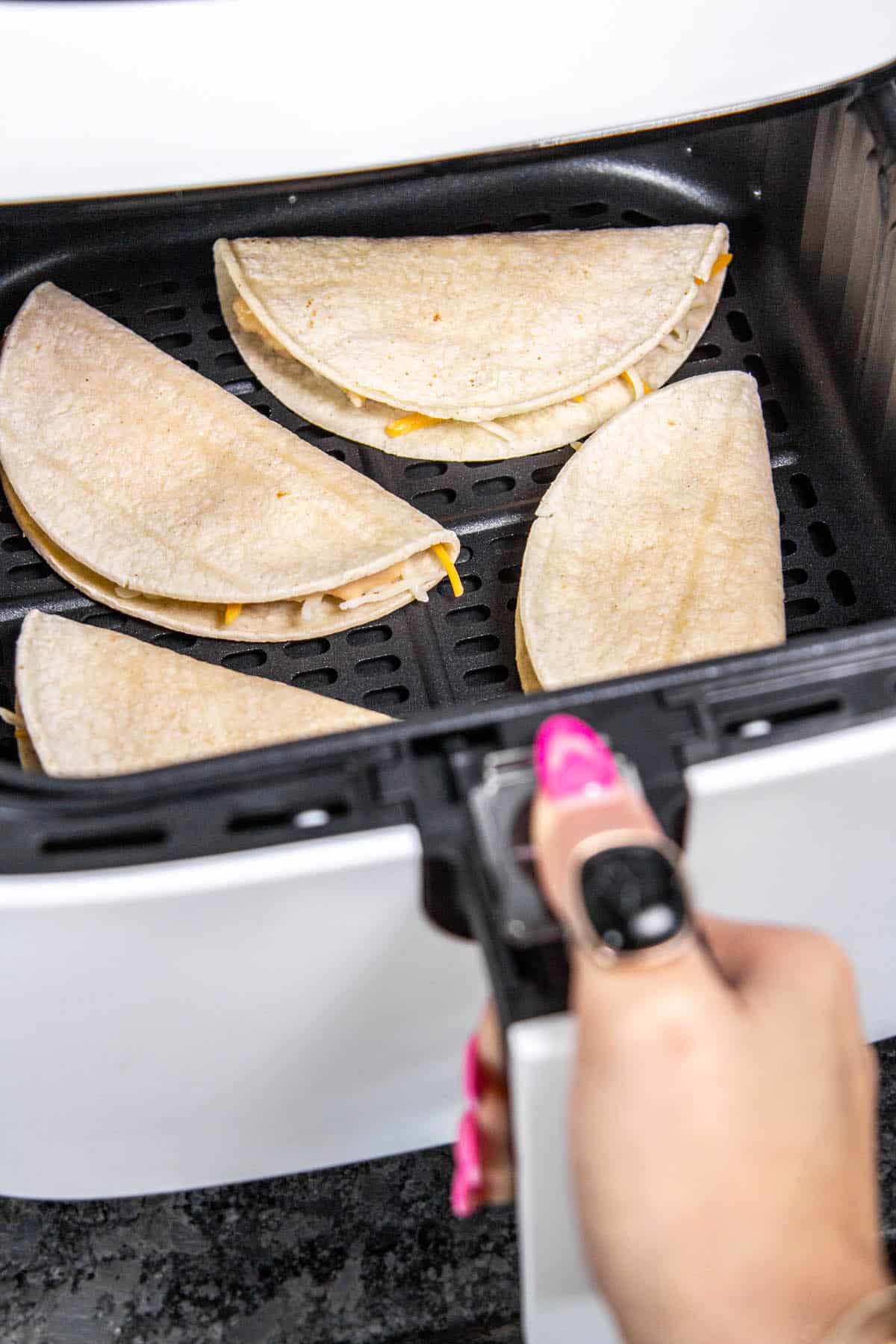 Place the tacos in the air fryer at 400°F for 10 minutes. Carefully flip once halfway through using tongs.
Hint: By warming up the tortillas beforehand, this makes it easier to fold the tortillas without them ripping.
Substitutions
If you are looking for a vegan, vegetarian or even gluten-free air fryer tacos you're in the right place. Just make these simple substitutions:
Vegan - Instead of cheese, try using dairy-free or plant-based cheese.
Gluten Free - Thanks to the corn tortillas, this recipe is naturally gluten-free! Just make sure the sauce you use in the potatoes is gluten-free. If you are buying pre-made mashed potatoes, as I did, you should also verify that the potatoes are gluten-free.
Kitchen Tip: How To Preserve Lettuce in The Fridge
If you are like me & prefer to cut fresh lettuce for your air fryer tacos, you are most likely left with a good portion of the lettuce afterwards.
Wrap the remaining lettuce in aluminum foil & keep it in the crisper drawer of fridge in the crisper drawer.
As you eat the lettuce, remove the leaves or cut-off sections of the lettuce, and rewrap it in aluminum foil. If properly stored, the lettuce will stay fresh for a long time.
Take These Tacos To The Next Level!
I love sprinkling Tajín on the outside of the tacos after spreading the oil on them! It adds a delicious tanginess!
Dip the tacos in salsa, queso, sour cream, guacamole, or top with any other taco toppings you choose. In my opinion, the vibrant crunch of fresh red onion is necessary to complete this recipe!
Equipment
For this recipe, you will need an air fryer!
Storing Air Fryer Tacos
You can store your air fryer tacos in the refrigerator for a few days if they don't get eaten first!
Print
Air Fryer Tacos: The Best Use for Leftover Mashed Potatoes
What's the best use for leftover mashed potatoes? A super easy (and delicious) recipe for air fryer tacos made with leftover mashed potatoes!
Total Time:

15 minutes

Yield:

2

-

3

Servings

1

x
8

White Corn Tortillas

1

cup

Mashed Potatoes

1 ½ Tablespoons

Chipotles, in Adobo Sauce. *see notes*
Salt & Pepper to Taste
Shredded Cheese of Your Choice

1 tablespoon

Olive Oil
Spray oil
Toppings *optional*
Red Onion
Lettuce
Cilantro
Sour Cream
Salsa
Instructions
 Count out your tortillas & wrap them in a damp paper towel. Place the wrapped tortillas in the microwave. Microwave if high heat until the tortillas are warm & flexible. Keep the tortillas wrapped & set aside.
In a bowl, mix the mashed potatoes, salt, pepper, & Adobo sauce.
Unwrap the tortillas & lay them on a flat surface. Coat both sides of the tortillas in olive oil.
Place an even layer of the cheese on half of the tortilla, then using a tablespoon measure, place two tablespoons of your potato filling on top of the cheese.
Carefully fold the tortilla in half creating the "taco shape"
Spray your air fryer with oil.
Place your tacos in the air fryer & set the air fryer to 400°F Cook for 5 minutes.
Carefully flip your tacos & continue cooking for another 5 minutes, until the tortillas are golden, crispy, & the cheese is melted. 
Top the tacos however you would like & enjoy!
Notes
* When measuring out the Chipotle in Adobo Sauce, make sure you are ONLY measuring out the Adobo sauce itself, leave the Chipotle peppers in the can. 
Author:

Prep Time:

5 minutes

Cook Time:

10 minutes

Category:

Leftovers

Method:

Air fryer

Cuisine:

Mexican
Keywords: Air Fryer Tacos
FAQ
Where Do Potato Tacos Come From?
In Mexico, there has long been a variety of potato tacos. They can be "drowned" in sauce, rolled like taquitos, and many other ways.
What Does An Air Fryer Do?
Convection heat is used in air fryers to cook, so food is crispy and browned outside but still juicy and soft on the inside.

Compared to deep frying or conventional oven use,  using an air fryer is quicker and creates less mess. 
Is It Worth Getting An Air Fryer?
Yes! Having an air fryer has made my life SO much easier! By using an air fryer, my food takes less time to cook & always taste the same as the traditional cooking methods if not better!