Cinnamon rolls are one of my all-time favorite breakfast dishes, but making them can be very time-consuming! I'm talking up to 2 hours time-consuming! Not sure about you, but I don't have time for that, so I created the yummiest recipe for a cinnamon roll in the microwave that only takes minutes!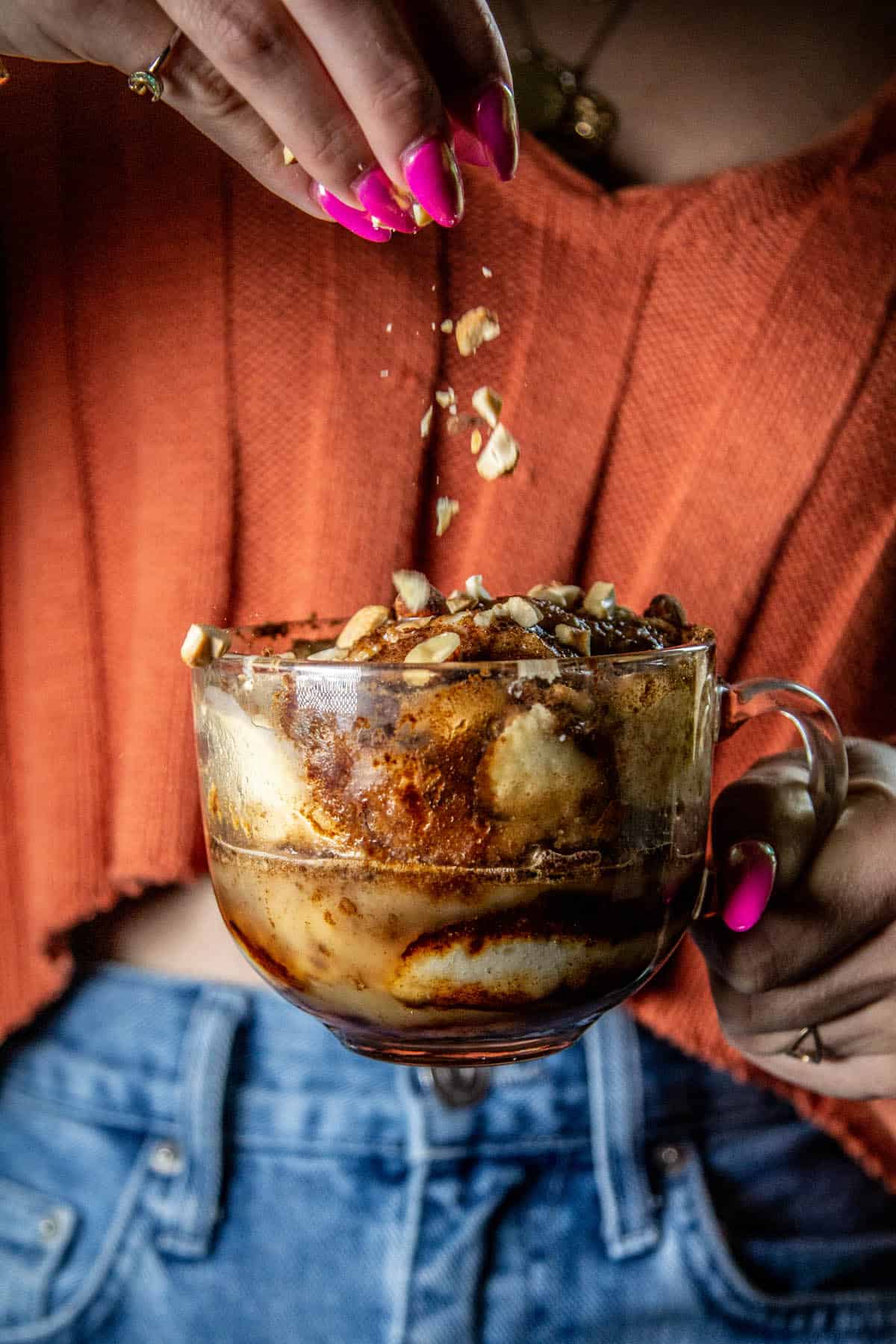 Jump to:
What Is A Cinnamon Roll?
A cinnamon roll is made of sweet dough that has been cooked and is filled with cinnamon sugar—their distinctive shape comes from rolling up a dough sheet filled with the sweetened cinnamon. Cream cheese icing or a sugar glaze are typical toppings for cinnamon rolls.
Cinnamon Roll For One Please!
This cinnamon roll in the microwave is the best solution whenever a craving for a delicious cinnamon rolls strikes.
Instead of making and having to store a dozen cinnamon rolls, you can soothe that hunger with just one!
Since this recipe only makes one serving, double or triple the ingredients if needed (we tripled the recipe for our photos since we were using an oversized mug). A single serving fits perfectly into a standard 11-ounce mug.
How To Make A Cinnamon Roll In The Microwave - Complete How-To Guide
This cinnamon roll recipe is ideal on days when you want a bite of that nostalgic roll but don't want to spend a lot of time in the kitchen preparing. The best thing about this recipe is that you can make it in only ten minutes, so you won't have to wait long to try one!
Ingredients
This cinnamon roll is made with simple ingredients that you probably already have on hand, and if not, they're super easy to find!
All Purpose Flour
Canola Oil
Whole Milk
Vanilla Extract
Instant Mashed Potatoes

Baking Powder

Maple Syrup
Cinnamon
Brown Sugar
Cream Cheese Icing *optional*
See recipe card for quantities.
Instructions
How To Make A Cinnamon Roll In The Microwave
This is a step-by-step tutorial on how to make a cinnamon roll in the microwave. The recipe is super simple, and you can whip it up in under ten minutes!
Add your milk into a bowl.
Add the maple syrup.
Add the oil.
Add the vanilla extract.
Add the flour.
Add the instant potatoes.
Mix wet and dry ingredients.
Stir until a dough is formed.
Combine brown sugar & cinnamon in a small bowl.
Add first layer of the dough into the bottom of the mug.
Sprinkle the brown sugar & cinnamon mixture along the edges of the mug.
Repeat until you are out of dough. There should be extra sugar left- use the extra sugar to completely cover the top of the dough.
How To Microwave Frosting
Place your frosting in a microwave safe container.
Microwave until it becomes a smooth liquid. About 20-25 seconds.
Hint: Layering the dough & brown sugar mixture creates the " roll " effect without having to roll the dough out physically!
Substitutions
If you are looking for a vegan, vegetarian or even gluten-free cinnamon roll, you're in the right place. Just make these simple substitutions:
Vegan - Instead of milk try oat or almond milk. Also make sure you are using a dairy-free frosting, or just skip adding frosting all together.
Gluten Free -Use gluten free all-purpose flour like cup for cup
Can I Make This Cinnamon Roll Without Instant Mashed Potatoes?
If you are against using instant mashed potatoes, you can make this recipe without them. Follow the directions as you usually would, but skip adding the potatoes. I promise the make the world's difference, though!
I know using instant mashed potatoes sounds bizarre, but it does work. The potatoes make the cinnamon roll extra fluffy and airy, which is pretty much the most fantastic trick ever.
Using mashed potatoes is very common when traditionally making cinnamon rolls! They don't give the cinnamon roll a strange flavor or texture.
Equipment
Any microwave will do the trick!
Some Baking Tips For Making Your Cinnamon Roll In The Microwave
Don't overfill your mug; this could cause spillage during baking and make it hard for you to get all the goodness out after baking! Use about ⅔ of the mug's volume for this recipe - that should be enough room for everything to adjust.
Use cream cheese frosting in place of other types of frosting for more richness!
Make sure to completely mix your dough before cooking! There is nothing worse than finding random pockets of flour in your cinnamon roll!
Be Careful!
Use an oven mitt or anything else to remove the mug from the microwave because it will be hot!
FAQ
What Kind Of Sugar Should I Use In A Cinnamon Roll Mug Cake?
I strongly suggest using dark brown sugar for this recipe, but you can also use regular granulated sugar if you prefer.
Why Do My Cinnamon Rolls Get Hard?
Not enough flour will make the dough sticky and eventually produce dense rolls. The dough will be hard, and the rolls will be dry if you add too much flour.
Print
HOW TO MAKE A CINNAMON ROLL IN THE MICROWAVE
This is my favorite cinnamon roll in the microwave recipe! It has layers of delicious dough, cinnamon yumminess, & cream cheese frosting!
Total Time:

9 minutes

Yield:

1

1

x
Cinnamon Roll Dough
¼

cup

flour

¼ teaspoon

baking powder

½ teaspoon

instant mashed potatoes

¼ teaspoon

vanilla extract

2 tablespoons

whole milk

1 tablespoon

maple syrup

1 teaspoon

canola oil
Sugar Filling & Topping
1 tablespoon

dark brown sugar

½ teaspoon

cinnamon
Additional Toppings *optional*
Cream cheese icing
Chopped nuts
Instructions
 Add all of the ingredients for the Cinnamon Roll Dough into a bowl.
Mix until all the ingredients are combined & the texture is doughy.
Add a small amount of your dough into the bottom of your microwave safe mug.
Next add a sprinkle of the sugar topping around the sides of the mug .
Repeat steps 3 & 4 until you are out of dough. There should be some of the sugar topping remaining. 
Use remaining sugar topping to completely cover the top of the dough.
Microwave for 1 minute & 25 seconds on high. The dough will expand in the mug.
If you would like to add frosting on top, microwave your frosting for 20-25 seconds, or until smooth & runny.
Top your cinnamon roll with the frosting & whatever other toppings you would like & enjoy!
Author:

Prep Time:

7 minutes

Cook Time:

1 min 50 sec

Category:

Dessert

Method:

Microwave

Cuisine:

American
Keywords: cinnamon roll in the microwave